Welcome to Compustock - Specialist's in Stocktaking since 1976.
We know how to help your business succeed.
Have you ever sat down after a long hard year of working seven days a week, fourteen hours a day, only to find out from your accountant that things are not nearly as good as you expected?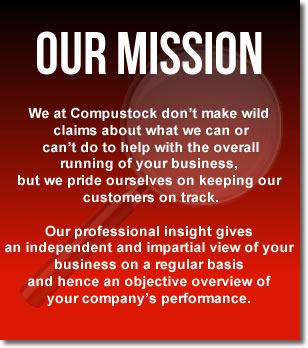 Like many business owners, on hearing the bad news, your first reaction is likely to be a series of questions.
They may start out as little questions at first: Why are my margins so low? Why does my cash to till reconciliation consistently differ? Why am I not making more profit?
Eventually the crucial question of "stock shrinkage" will probably come to the fore.
If you've reached the point of asking yourself: "Could I have a stock problem and, if left unchecked, could it destroy my business? the answer is most likely YES.
But don't panic, Compustock can help sort out your stocktaking problems.
Compustock was established in 1976, before the days of the computerised stocktaking inventory system.
Back in those days the traditional method of counting stock was done with a pen and paper.
Being one of the biggest independent stocktaking companies in Dublin, we adapted to the future and became early pioneers of barcode scanning and computerised stock reporting.
Over the years we have developed and grown with technology and are now the leader in our field.
At Compustock we service a broad range of successful retail customers including bars, nightclubs, service stations, restaurants, supermarkets,hotels and pharmacy's.
So, if you want to arrest the downward trend in your margins and get yourself back on the path to success then contact us today for a no obligation quotation.
You can phone us on:(01) 2889903 or email us at: info@compustock.ie
We look forward to hearing from you.
Special Offer!!
Compustock have joined forces with Pam Conway Interiors to offer all new subscribers to our newsletter a FREE interior design consultation.
Pam has over twenty four years experience renovating pubs and GAA, rugby and golf clubs in the greater Dublin area.
Pam also specialises in domestic interior design and has worked her magic on a range of projects from one bed apartments up to and including an overseas Ambassador's residence.
To claim your free consultation with Pam simply enter your details in the form provided.